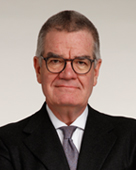 GREGORY MARK WOOD,
CBE, DBA, FCA, BA (Hons), Chairman
After qualifying with Price Waterhouse in London, Mark joined Commercial Union's Investment Department becoming Treasurer in 1981. In 1983 he moved to Barclays as Global Head of Cash Management with a desk in London and New York. Chief Executive roles at subsidiaries of B&C, MAI and the AA followed. In 1996 Mark was appointed Chief Executive of AXA UK, with the mandate to create a market leading composite. The integration of Equity and Law, Provincial Insurance, Guardian Royal Exchange, PPP and Sun Life, established AXA as the UK's third largest insurer. In 2001 he was appointed Chief Executive of Prudential UK and Europe. Implementation of the '1000 day plan' re-established Prudential as the UK's largest life insurer. Profits increased by 40% between 2002 and 2005.
Paternoster, founded by Mark in 2006 with £500m of Private Equity backing quickly became the market leader in Pension Bulk Annuities. The business was acquired by Goldman Sachs in 2010. Subsequently Mark originated the buyout of RAC Motoring Services from Aviva, securing financing from Carlyle and becoming Senior Non Executive Director; additionally Mark variously chaired Jardine Lloyd Thompson Employee Benefits, Chaucer, start-up Beta Advertising, and The Innovation Group (Carlyle). Mark also served on the board of Which? Financial Services.
Currently, Mark chairs PensionBee (plc), Digitalis (private), RAC Financial Services (CVC / GIC and Silverlake), Acquis Insurance (Dunedin), Utility Bidder (Sovereign), and ONDO plc. He is Chairman of PricewaterhouseCoopers's (PwC) Building Public Trust Awards judging panel, a trustee of the Brooklands Museum and Chairman of the MS Society 'STOPMS' Appeal Board.
Mark was Chairman of the Board of Trustees of the National Society for the Prevention of Cruelty to Children (NSPCC) from 2010 to 2019, Deputy Chairman of the ABI from 1997 to 2000, Chairman of the Board of Governors at Amesbury School from 1998 to 2006, Trustee of the NSPCC between 1999 and 2006.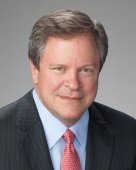 MARK W. DUFFEY,
Co-Founder, President & CEO
Mark W. Duffey is co-founder, president and CEO of Everest Funeral Package, LLC. Prior to Everest, Mark co-founded Carriage Services in 1991, where he served as president. In less than ten years, Mark helped Carriage Services grow into one of the largest funeral home organisations in the world – listed on the New York Stock Exchange (NYSE: CSV).Mark is widely quoted as an industry expert, featured in Barron's, CBS Early Show, Designing Spaces on Lifetime Television, The Wall Street Journal, The New York Times, USA Today, Chicago Tribune, and Houston Chronicle, among others.